HAOSH pump has been sold in China for more than 10 years, has been widely used, and has a good reputation. In order to meet the international market, The brand has registered brands in more than a dozen countries in Southeast Asia, Australia and other regions, better service to the company's new and old customers, for the global environmental protection cause and efforts.
As a professional production of dosing metering pump manufacturer mainly produces solenoid diaphragm dosing pump, mechanical diaphragm metering pump, hydraulic diaphragm metering pump and plunger pump, mainly used for water treatment dosing, chlorine, acid and alkali, process dosing, etc. Because of its stable performance and excellent results, it has been widely recognized by customers. In order to meet the needs of customers for various types of pumps, and provide customers with a variety of services.
What is chemical dosing pump?
Dosing pump is a volumetric chemical dosing system that can change capacity manually or automatically as required by process conditions. About 90% of all pumps sold are transfer pumps, used to move liquids from point a to point b. Metering pumps are designed for the precise injection of chemicals, acids, bases, corrosive or viscous liquids and slurries. Metering pumps are needed for applications where one or more conditions exist:
Requires high precision feed rate
Requires low flow rate (ml/hr or GPH)
High system pressure
Variable flow rate, must be controlled by computer, microprocessor, DCS or PLC
Handles corrosive, dangerous or high temperature fluids
Requires pumping of viscous fluids or slurries
How does a chemical metering pump work?
The pump motor drives a piston to create a vacuum that draws the chemical from the outer tank of the metering pump into the liquid end. Alternating piston strokes create pressure that closes the inlet valve and opens the outlet valve, forcing the chemical into the process. There is a diaphragm at the liquid end that acts as a barrier between the piston and the process fluid. Sometimes the diaphragm is mechanically connected to the piston. Sometimes the diaphragm is hydraulically connected. The pumping motion of the piston is applied to the hydraulic fluid, and the diaphragm bends back and forth as the piston reciprocates. The movement of the piston bends the diaphragm – the more the diaphragm bends, the higher the flow rate of the pump. The flow rate can be precisely controlled to ensure that the process receives what it needs and that there is no over/under injection.
Where are metering pumps used?
There are thousands of applications requiring corrosion inhibitors, wax inhibitors, biocides, antifreeze, disinfectants, coagulants, oxygen scavengers, polymers, softeners, acids/bases, process additives and other types of chemicals. The main industries where metering pumps are purchased are:
Industrial water treatment (cooling towers, boilers)
Drinking water and wastewater treatment
Oil and gas production
Chemical and petrochemical processing industry
Power generation
Agriculture
Manufacturing
Food and Beverage Production
Dosing metering pump factory video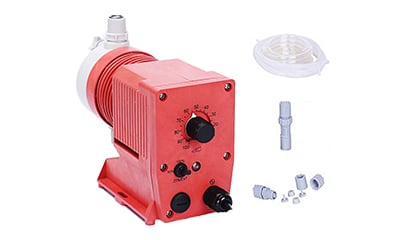 Solenoid dosing pump is a form of displacement pump that uses a diaphragm and solenoid