What is chemical dosing system?
Chemical dosing system is a complete set of equipment with dosing, mixing, transporting liquid and automatic control. It is also called chemical feed system or dosing machine.
It is used for raw water of power plant, boiler feed water, oil field ground gathering and transportation dehydration treatment system, petrochemical dosing system and wastewater treatment system.
Our chemical feed systems are pre-engineered solutions that can be used effectively in many different industries and municipal water treatment processes. These are high performance sodium hypochlorite dosing systems – for example when used to disinfect drinking water or as part of a chemical scrubber system. Compact and lightweight pre-packaged skids, corrosion resistance, flexibility of metering pump options and ease of maintenance are some of the advantages of our advanced chemical feed systems. Water treatment applications include disinfection (peroxyacetic acid – PAA injection), fluoride treatment, sodium bisulfite dosing, sulfuric acid dosing, sodium hypochlorite systems, dispersant polymer dosing, sodium hydroxide feeding, potassium permanganate dosing, coagulation and flocculation, hydrochloric acid dosing, alum feeding, pH neutralization and scale inhibitor addition.
How does the chemical dosing system work?
Chemical dosing system is designed to automatically inject chemicals into the chemical feed tank for wastewater treatment. During the dosing process, chemicals are added to the water stream at precisely controlled rates by chemical metering pumps.
Difference between different chemical dosing systems
Different chemical dosing systems use different reagents. Each of these reagents works in a different way. The common denominator is that they all condition the effluent to prevent the biological or chemical formation of odorous emissions.
Which reagent and system to use depends on your water treatment network.
Our chemical feed systems are available in all types of configurations with the widest range of pump options, piping arrangements and materials. In addition, our technical expertise in engineered system design integrated with turnkey modules for environmental enclosures, and IoT transfer modules can help you develop fully transportable, easy-to-install, easy-to-control, all-in-one solutions for your chemical metering applications.
According to the different delivery scenarios and purposes, it can be divided into the following two categories:
Acid Alkali pH Chlorine Dosing System
The system combines PE tank, metering pump, mixer and automatic control system into one. The metering pump and mixer are set on the PE tank, and the outlet of the metering pump is connected to the dosing pipe and inlet pipe. This metering pump is controlled by the automatic control system, which automatically controls and checks the dosing speed and dosing quantity. When adding chemicals to the wastewater treatment plant, the mixer mixes the chemicals with water and the metering pump sends the chemicals into the wastewater inlet pipe under the control of the automatic control system. The mixed chemical wastewater flows into the subsequent units.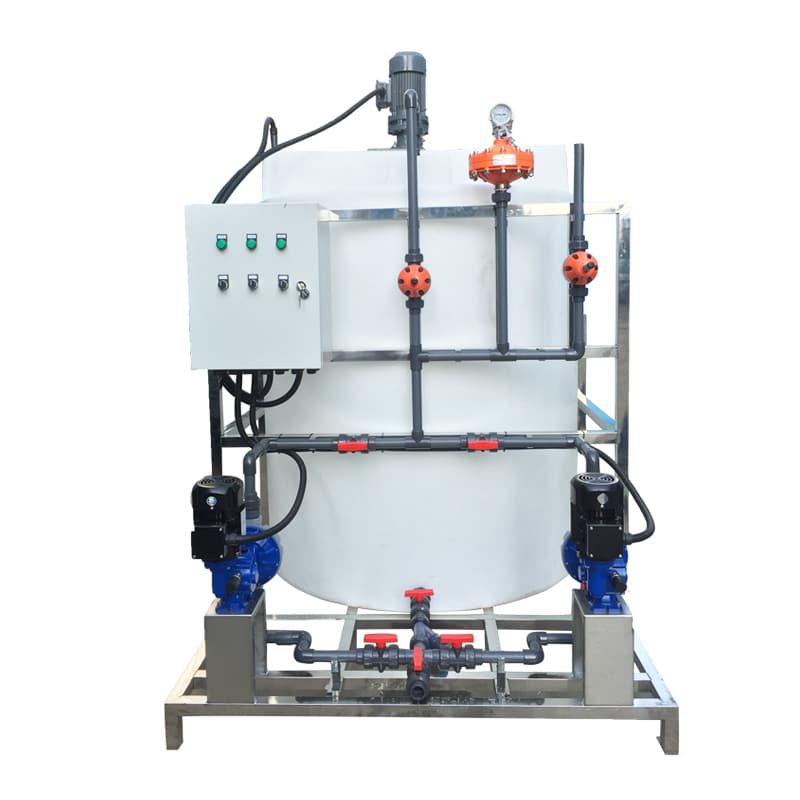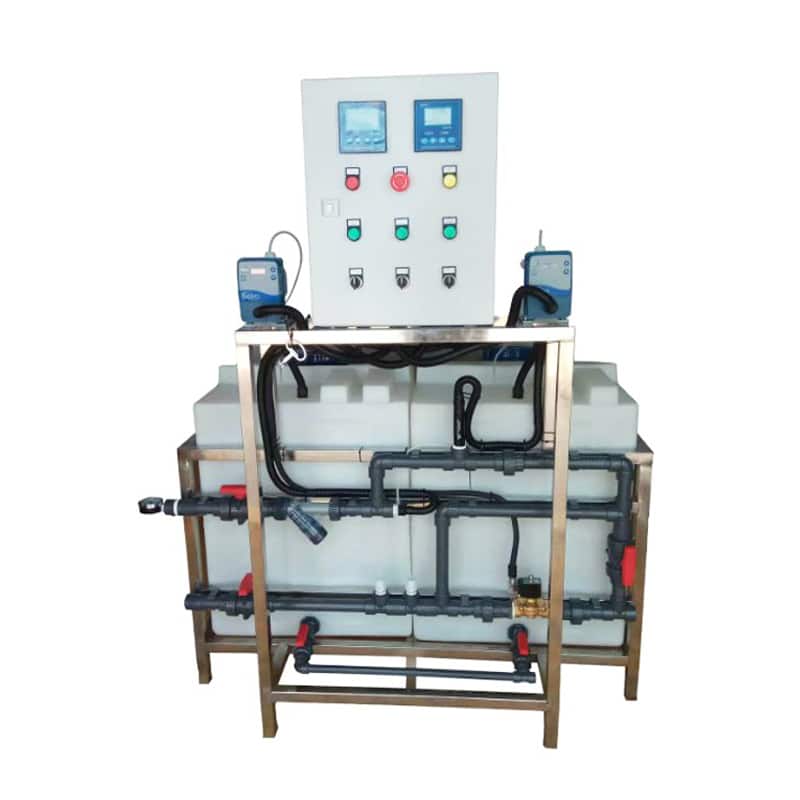 PAM PAC Powder Dosing System
The system is a kind of equipment which can automatically and continuously add chemical dry powder and dissolve chemical liquid.
You can easily and reliably adjust water for your intended use and to meet technical requirements. Application areas include the following doses:
Acids are used to reduce alkalinity and prevent scaling
Polyelectrolytes are used for the condensation of suspended solids and for improved subsequent filtration
Scale inhibitor can avoid scaling on reverse osmosis film
Disinfectants for impact treatment to avoid bacterial growth
Chlorine prevents biological growth and storage tanks in pipes
Hydrated lime or caustic soda is used to regulate pH to neutralize dissolved free carbon dioxide.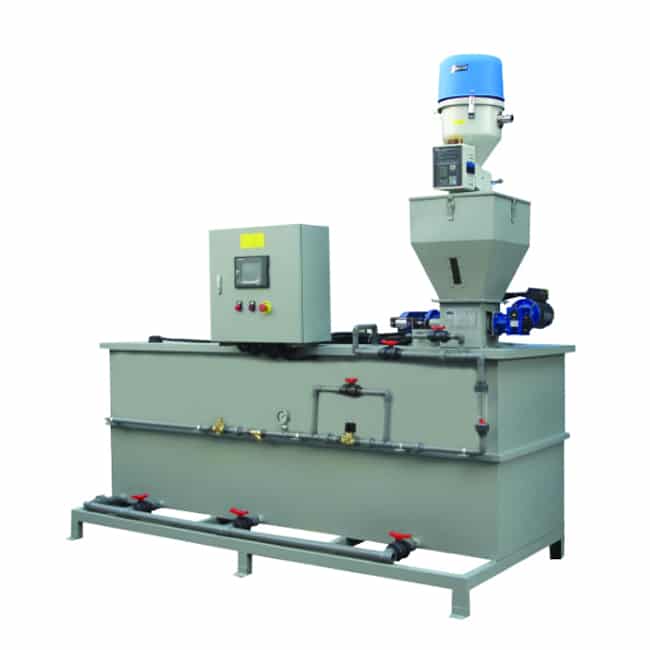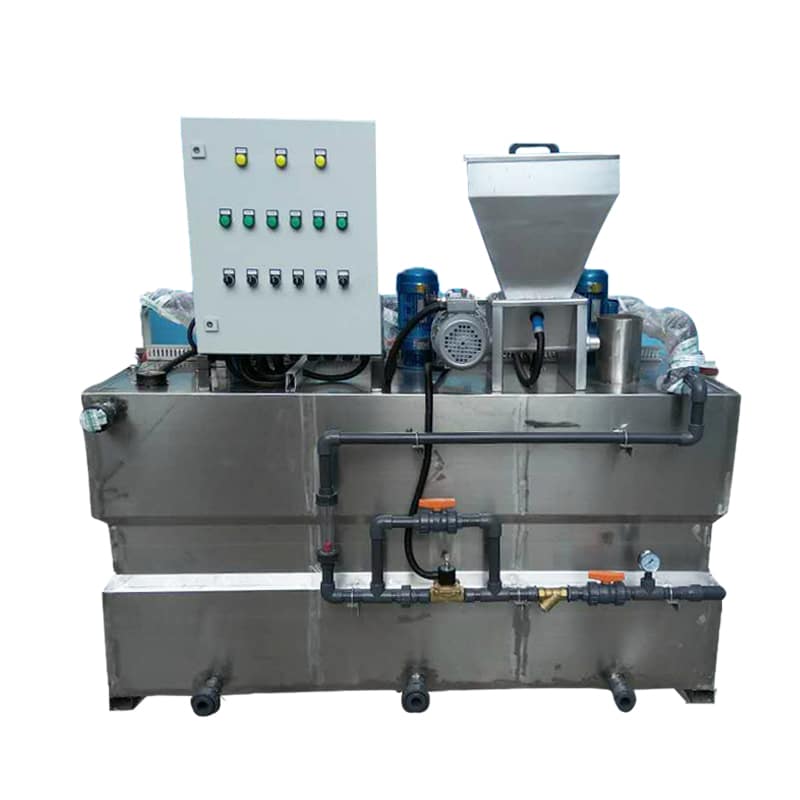 Frequently asked questions
Why choose us?
Our prefabricated chemical metering systems offer a variety of component options, pumping options and piping arrangements needed for custom chemical injection solutions. Our systems can be skid-mounted or wall-mounted and are designed to inject chemicals into the wastewater treatment stream.
Wide range of pump technologies (diaphragm, gear, peristaltic, metering, centrifugal, AODD, etc.)
Skid blocks made of polypropylene, HDPE, stainless steel and FRP
PVC, CPVC and PVDF butt fusion weld piping options available
Custom control options available
Simplex, duplex, triplex designs, etc.
Complete system fabrication and factory hydrostatic testing
Types of applications for chemical feed systems?
Municipal water: disinfection systems, sodium hypochlorite, pH adjustment, fluoride addition
Municipal wastewater: fume scrubbers, general odor control, pH adjustment, residual disinfectant management, drug sterilization
Food and beverage: in-situ cleaning, off-line cleaning, disinfectant water treatment
Institutional: cooling tower waste treatment, boiler water treatment, closed-loop systems
Other applications: swimming pools and water parks, mining and agriculture, utilities and dairy industries, pulp and paper, oil and gas operations, crude oil processing
What are the commonly used injection chemicals?
Chemical metering systems are used in water treatment applications that require mixing, storage and accurate metering of chemicals. Adding the correct chemical at the optimum rate is important to obtain efficient operation and achieve optimal long-term application performance.
Citric Acid: The most commonly used pH treatment method. Use citric acid stoichiometry.
Chlorine: The most commonly used method of water disinfection. Well suited for drinking water disinfection. Chemical injections use calcium hypochlorite or sodium hypochlorite.
Dechlorination: The most commonly used method of dechlorination. Uses sodium bisulfite for stoichiometry.
Peroxyacetic Acid: PAA is an excellent disinfectant and sanitizer for industrial water and wastewater treatment.PAA can be injected using a diaphragm or peristaltic chemical pump. Peroxyacetic acid is an effective and safe alternative to chlorine. It is an oxidizing bactericide that degrades relatively quickly into a non-toxic by-product. Because it contains no halogens (chlorine or bromine), PAA has no risk of THM (trihalomethanes) formation. In addition to its environmental advantages and ease of implementation, PAA has little dependence on pH, short contact time, and effectiveness on primary and secondary effluents.
What is the standard chemical feeding system configuration?
Simplex with optional components
Duplex arrangements include:
Redundant piping, suction and discharge
Redundant discharge, co-suction
Pilot/backup, single pipe system
Triple arrangement includes:
Redundant piping, suction and discharge
Redundant discharge and co-suction
What are the standard components used to build a chemical feed system?
The components used in chemical metering systems play an important role in allowing operators to adjust flow, pressure and calibration for repeatable performance. We design and manufacture customizable chemical metering systems.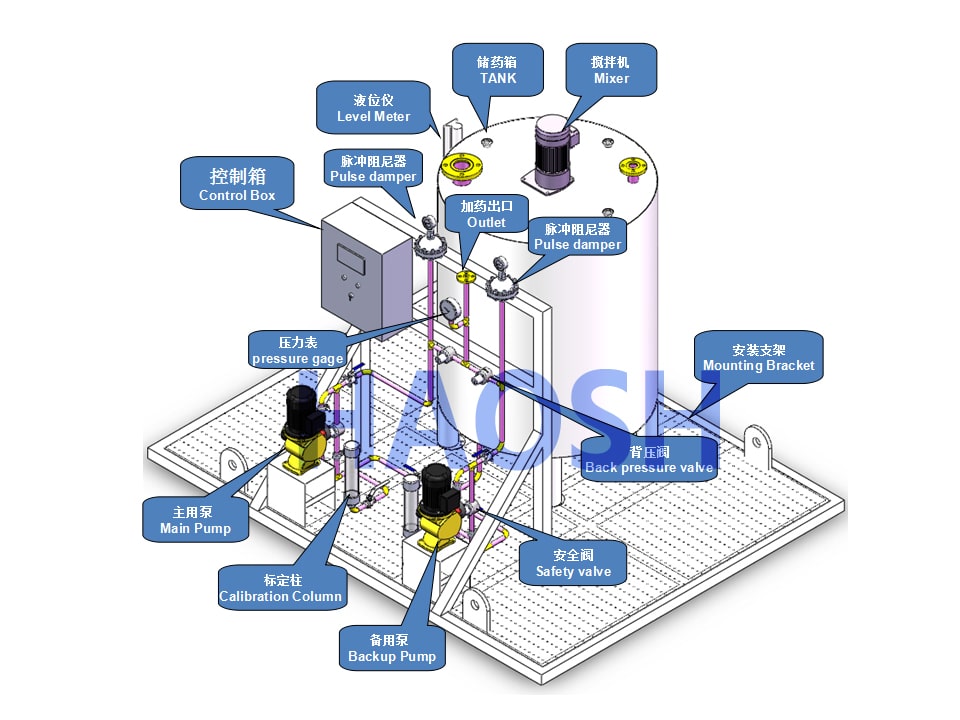 Chemical feed systems are usually supplied as complete, fully integrated units already mounted on skids, or components can be purchased separately. The main components of such systems are:
Chemical storage tanks
Volume pumps
Piping
Process control panel. In addition to on/off control, the control panel includes overload protection: temperature, flow, level and pressure sensors, variable speed control and status lights.
1/2″ thick HDPE construction
Wall mounted and floor mounted skid mounted construction
Visual flow indication
Containment basin with drip ring
Piping labeled with chemical name and flow direction
Containment drain with manual ball valve
Calibrated column size for at least 30 seconds
Clear PVC Y-strainer
What options are available for chemical feed systems?
Flow and pressure sensors
Conduit boxes for power and control signals
Control stations
Splash shields
Fiberglass shelters
Legs/stands for elevation within the berm
What types of metering pumps are available for chemical dosing systems?
A variety of materials and different types of chemical dosing pumps can be used as part of a chemical feed system. Water treatment, for example, brings its own challenges and requirements, such as the need for high flow rates, non-corrosive materials for handling aggressive chemicals, and low maintenance costs. Choosing the right size metering pump for your application is also critical. Determining the right size chemical metering pump calculates the need for chemical injection (flow rate in GPM, dose and solution strength), stroke per minute (SPM) and pump output rating in GPD or gallons per day.
Chemical feed system of pump types include:
Solenoid Dosing Pumps — The simplest design and the least expensive metering pump available. A solenoid valve controls a spring-loaded reset piston that pushes out a specific amount of fluid on each stroke. The flow rate is regulated by increasing the frequency of the strokes. This type of pump is used for low flow applications.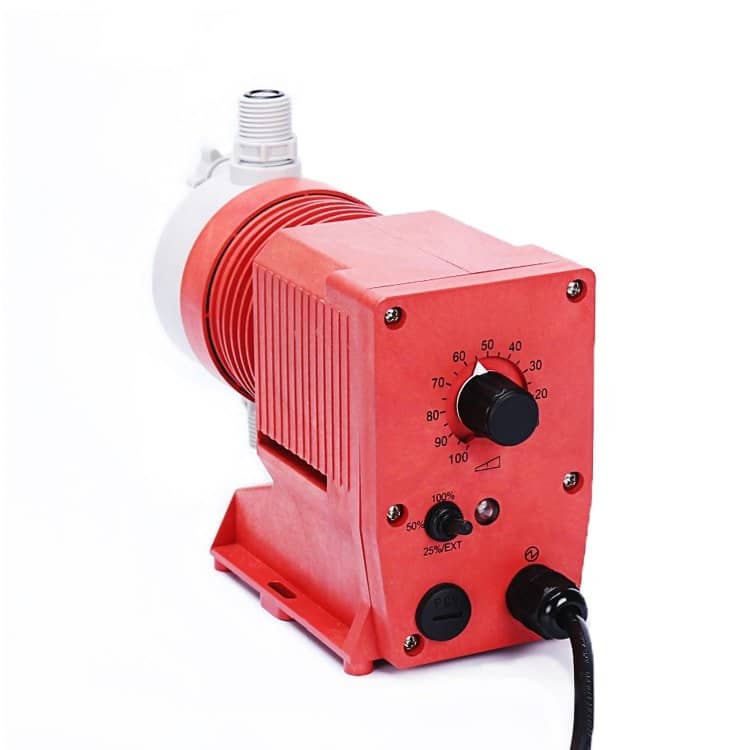 Peristaltic dosing pumps — also available in a simple design, but they can be more expensive. A continuous tube is wrapped around a squeegee that rotates to push out fluid. The speed of the motor is adjusted to control the flow rate.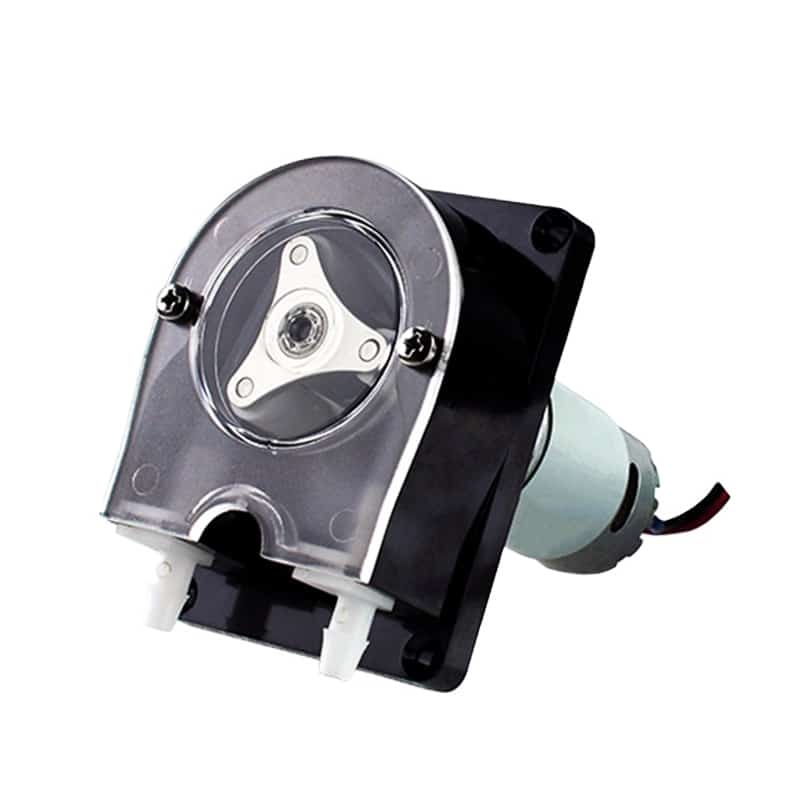 Diaphragm metering pumps — designed to handle high-flow processes, such as water treatment facilities. In these applications, the chemistry of the water must be carefully analyzed and controlled. Multi-diaphragm metering pumps can be used to inject a variety of chemicals to control different chemical properties. The design consists of a flexible diaphragm controlled by a motor and an adjustable stroke lever. The flow rate is controlled by varying the diaphragm stroke frequency (motor speed) and the amount of chemical delivered per stroke (diaphragm stroke length). In complex water treatment systems with multiple pumps, motor speed can be controlled by the water flow rate and a chemical analyzer can be used to control chemical delivery.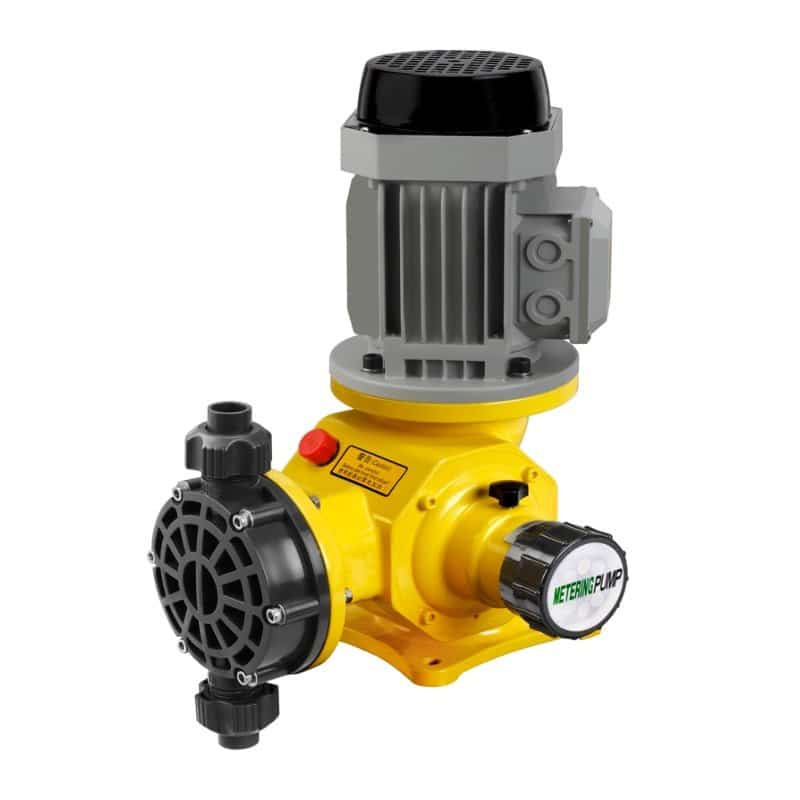 Metering pumps — are volumetric pumps designed to inject chemicals or other substances into water, gas or water streams. The fluid moves through expansion and contraction chambers. Powered by electric motors or pneumatic actuators, these metering pumps are a central part of chemical metering systems designed for the automatic dispersion of chemicals, acids, bases, corrosive, hazardous or viscous liquids and slurries. Chemical metering pumps are used in water treatment, agriculture, pharmaceuticals, food processing, mining and manufacturing.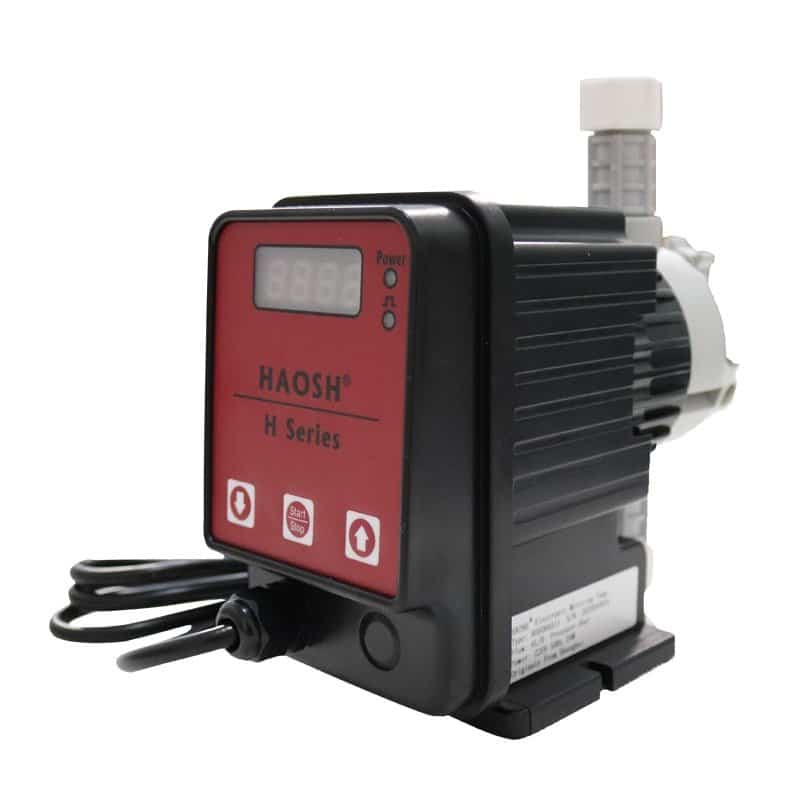 Hydraulic metering pumps — belongs to a kind of plunger diaphragm metering pump, which is a kind of metering pump designed by combining the features of plunger metering pump and diaphragm metering pump.