KMP 、KMPA series of High-quality Multi stage Centrifugal Pump is a kind of non self-priming vertical multistage pump, which adopts standard motor and assembly mechanical seal. It has so many advantages, such as small volume, light weight, low noise, easy maintenance and nice appearance etc. KPMP、KPMPA series are widely used in daily life, industry, agriculture, water treatment system and so on.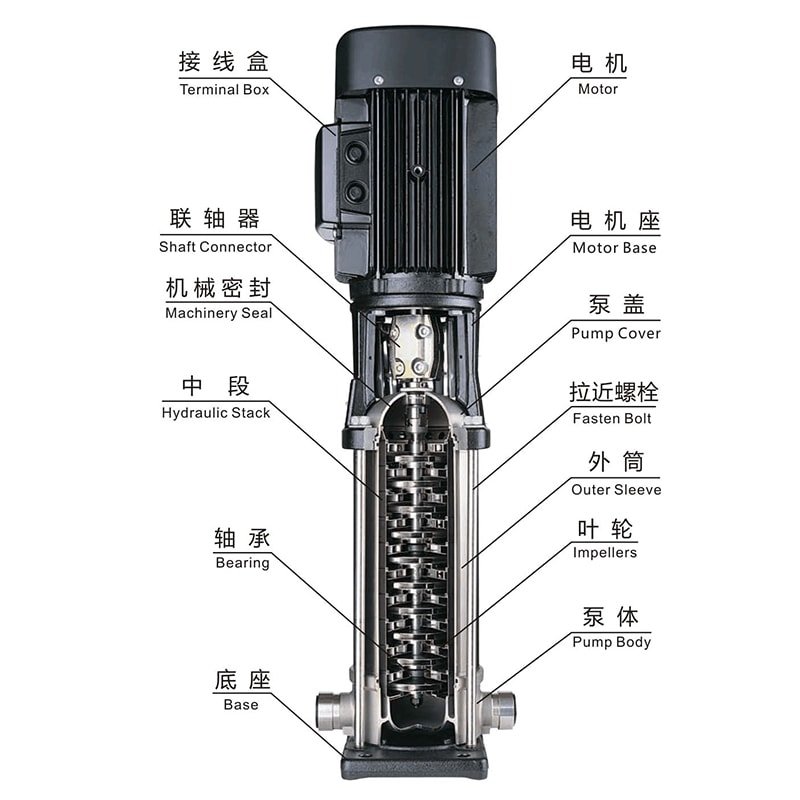 · Vertical and compact structure, the inlet and outlet flanges are located at the same central line, small ares occupation and
easy installation.
· Assembly mechanical seal. making installation and maintenance safer and more convenient.and guaranteeing the reliability of the
mechanical seal.
· Wet parts are made of stainless steel, which will not contaminate medium and possess lengthy service life and elegant
appearance.
· Electric motor shaft directly and accurately connects with pump shaft through coupling.
· Low noise and less vibration.
· Standardized design and outstanding universality.
Application:
     Cooling water system
     Water supply: water transportation in water plants, boosting system in high buildings pressure boosting in main
     Industrial liquid transportation: boiler feed, Industrial cleaning     Water treatment: swimming pools.
     Air-condition system
     Agricultural Irrigation: sprinkler Irrigation, drip-feed irrigation    Food & beverage industry
     Fire-fighting system
Performance:
    Flow ranges: 1﹣200m³/h  
    Altitude: up to 230m
    Power: up to 110KW    
    Liquid temperature: ﹣20℃~120℃
    Max. ambient temperature: +40℃
    Operation pressure: 16bar and 25bar