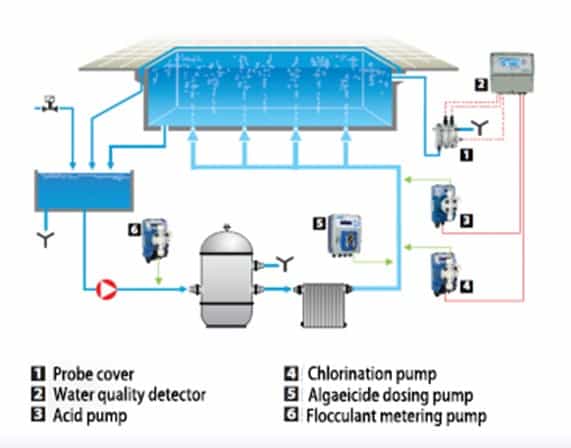 Large-scale swimming pool water quality testing, typical configuration diagram of water park swimming pool dosing system:
Use occasions: large private swimming pool, water park, indoor professional swimming place, SPA fitness center, outdoor professional swimming pool.
Including: PH tester, ORP tester, residual chlorine tester, turbidity meter, temperature and other measurement parameter display instruments Three or four dosing metering pumps are available, including flocculant metering pump, acid metering pump, chlorination metering pump and algaecide metering pump.
Small metering dosing pump for swimming pool:
Micro Chemical Dosing Pump
HAOSH H series Micro Chemical Dosing Pump is used in municipal water treatment and waste water treatment, Chlorine dioxide dosing, reverse osmosis,food,drink and pharmaceutical industry etc.