mROY series hydraulic metering pumps control chemical dosing with unmatched accuracy and reliability. This dosing pump is durable, compact in design and enables metering of some of the harshest chemicals with repetitive steady-state accuracy at a ±1% range.
It's not unusual to find mROY metering pumps still operating at design performance after 20 or more years of service.  That's because mROY maximum uptime pumps are comprised of a unique set of technical features that deliver consistent chemical injection performance with minimal maintenance requirements.
With flow rates from 0.20 gph (0.8 l/h) up to 174 gph (660 l/h), it has the capability to dose a broad spectrum of chemicals in numerous process-critical environments such as chemical processing plants, municipal water treatment facilities, and remote oil production locations.
The enhanced mROY metering pump features improved component durability, it is easier to prime, it performs more efficiently and it is safer and simpler to maintain
Accurate, repeatable flow control. The liquid end has been specifically designed for optimal chemical delivery.  Available in metallic or non-metallic materials, the liquid end features a high-quality double ball check valve for repeatability and accuracy, micrometer capacity control for precise dosage adjustment, and a bleed system for safer maintenance and easier commissioning.
Rugged enclosure. Dust-tight, cast-iron drive housing with a high-quality chemical resistant coating provides a rugged enclosure for operation in any plant and field environment.
Application flexibility. Available in simplex and duplex configurations with a wide range of options and accessories, you can customize mROY metering pumps for your most complex process needs.
Specifications and regulations. Our metering pumps meet all applicable regulations anywhere in the world where they operate. The Milton Roy mRoy pump also complies with API 675 specifications.
Performance by the numbers:
Flow rate from 0.20 gph (0.8 l/hr) up to 87 gph (330 l/h) in simplex configuration, or 174 gph (660 l/h) in duplex configuration.
Low and high pressure performance from 100 psi (5 bar) up to 3000 psi (207 bar)
Accuracy 1.0% over a 10:1 turndown ratio
Hydraulically-balanced diaphragm with 96,000 hours design life
Three-year warranty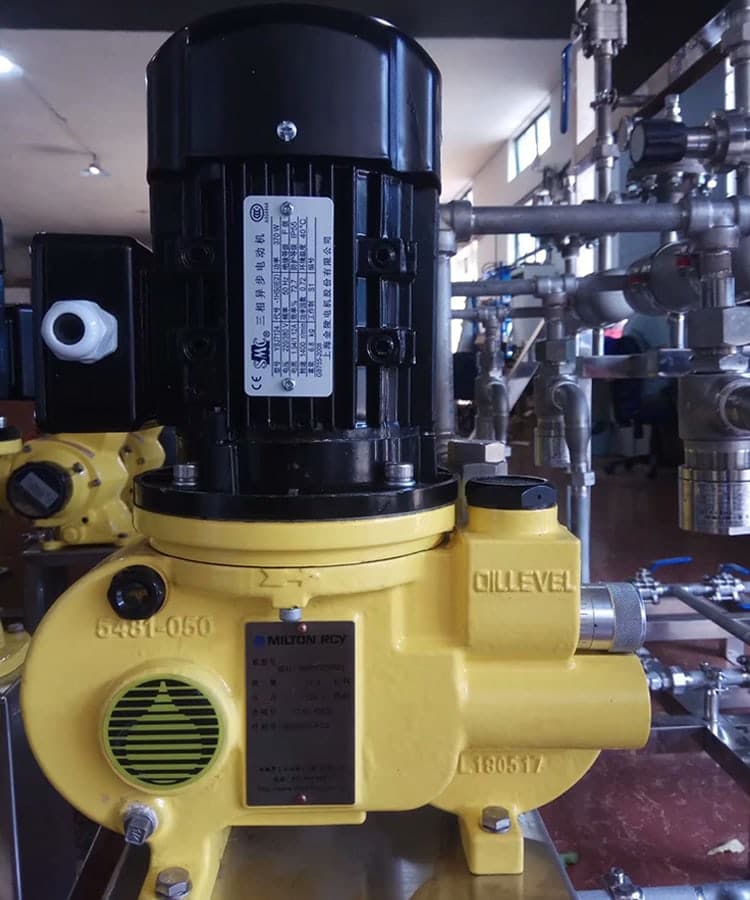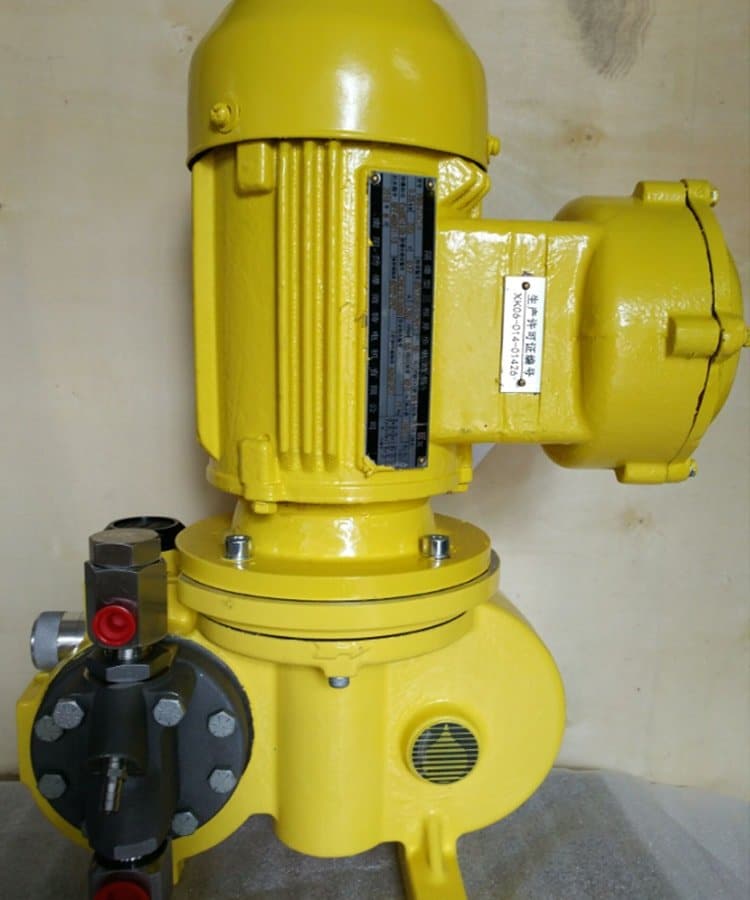 Because of its compact size, durable construction, and reliable performance, the mROY metering pump has applicability in a wide variety of applications
The most common applications include the injection of chemicals such as coagulants, biocides, disinfectants, polymers, softening agents, acids and bases for pH control, scale and corrosion inhibitors, oxygen scavengers, process additives, and many more.
Water and wastewater treatment. Water and wastewater must be treated efficiently, cost-effectively and within the appropriate quality standards.  Not only can mROY pumps effectively and safely deliver a wide range of chemical additives, they are well-known for their reliability.  With preventative maintenance, these metering pumps can perform at peak levels for decades, leading to less shutdowns and long-term cost benefits.
Chemical and petrochemical processing. The durable design of the mROY pump enables it to effectively withstand the toxic nature of processing fluids while its flow control capability can endure temperature and pressure variations during production.
Oil and gas production. mROY pumps are ideal for onshore oil and natural gas production because it can consistently inject methanol, corrosion inhibitors, oxygen binders, and other corrosive substances in the harshest conditions in the most remote locations.
Other industries include:
Food and beverages industry
Pharmaceuticals production
Power generation
Agriculture
Pulp and Paper
Mining
Many more