Seko Tekna AKS Solenoid dosing pump
Overview
Analogue dosing pump with constant flow rate, with manual adjustment using the control dial on the front panel.
It comes with two frequency ranges 0 – 20% or 0 – 100% and features a power ON/OFF indicator.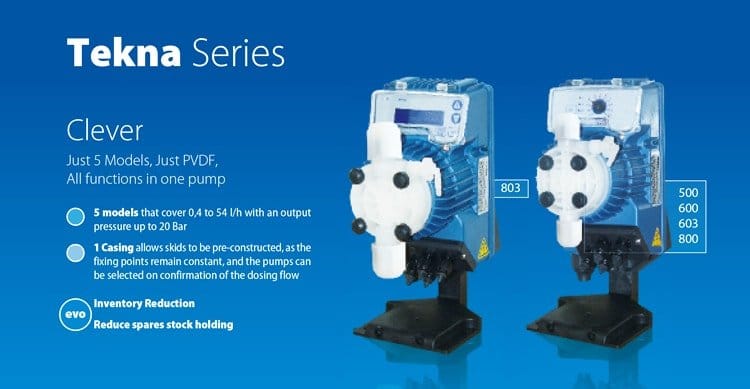 Features
Flow rates: from 0.4 to 110 l/h
Max back pressure: up to 20 bar
Power supply: 100 – 240 Vac – 50/60 Hz
Stroke rate: from 120 to 300 strokes/minute
Pump head: PVDF
Diaphragm: PTFE
External Enclosure: PP reinforced with fiber glass protection degree IP65
Manually priming valve
Installation kit: Included
Five times the Flexibility
A single outer casing contains 5 different models with flow rates
ranging from 0.4 to 110 l/h at up to 20 bar. The single casing's fixing
points remain the same, making the pump idea for the assembly of
preconstructed skids
PVDF pump head and ceramic ball valve as standard
Using only premium materialsin its manufacture, Tekna's pump head comes asstandard in PVDF and with a ceramic ball valve. These features assure high performance for the chosen applications and improve the reliability of the pump assuring the chemical compatibility of the wetted parts.Tekna Series is the range of innovative wall mounted solenoid driven dosing pumps that SEKO
has designed following many years of experience working with its customers worldwide. These multifunctional solenoid driven dosing pumps maintain outstanding precision and reliability, critical to any customer, characteristics synonymous with the SEKO name.
Long life diaphragm tested to give "Five Year" working life
SEKO's diaphragms are solid PTFE offering superior life expectancy and are guaranteed by SEKO for 5 years, making routine replacement no longer necessary.
Steady dosing performance
Tekna featuresreduced energy consumption thanksto a Stabilized Multi Power Supply 100 – 240 Vac 50/60 Hz.
Intuitive programming
A new concept of programming menu. Once a function is selected, the pump displays only the parameters that are associated with the specific function to reduced programming time. Programming menu are self explanatory and available in 5 languages.
Also available ATEX Version
Tekna is also available in ATEX standard compliant versions. This pump offers digital dosing with a constant or proportional flow rate, that is manually adjustable from 0 – 100% and has a level control input. Tekna ATEX comes as standard with a pump head in AISI 316. Optionally available are heads in PVDF, outer casing made in aluminium and with a manual priming valve.